The Cost of An Emergency Appendectomy Without Insurance
About a month and a half ago, I ended up in the E.R. with some excruciating pain in my lower right abdomen and back.
I'd had the pain for a day and a half before going to the local hospital.
You see, I had convinced myself that it was just food poisoning, especially since the pain was radiating to my back.
I thought there was no way that it really was an appendix issue.
I only went to the hospital because the pain was so severe that I could not sleep the night before.
It didn't take long for them to give me the bad news that I needed to have emergency surgery and a required overnight stay in the hospital.
Fortunately, I do have health insurance.
And as the bills keep rolling in, I am feeling extra fortunate because there is no way that I would be able to afford to pay them without insurance.
Just How Much Is A Laparoscopic Appendectomy In The US?
While I was waiting to get prepped for surgery, I was looking up the cost of the procedure on my phone.
What I discovered is that the price varies greatly from one area of the U.S. to another.
In fact, it can even vary by hospital in the same city!
My hospital visit took place in Raleigh, NC and you might be shocked at the total cost of this procedure.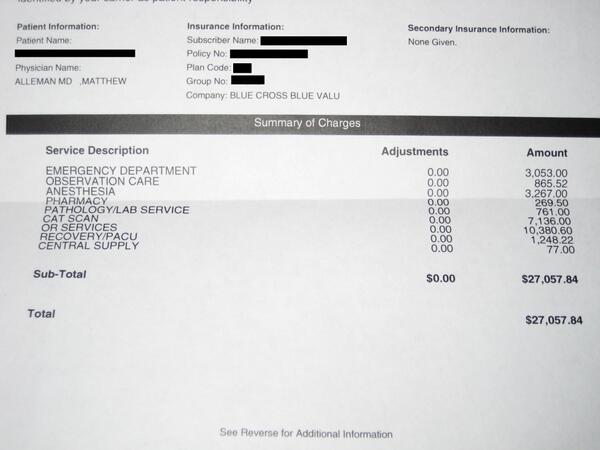 Yeah, that's a LOT for being in the hospital for such a brief period.
I've been fortunate in that this is really the first time that I've ever had to be in the hospital, so I was clueless about how my insurance deductible would work and if my Obamacare health insurance plan would leave me owning more than my deductible.
You see, I've read stories about people who went into the hospital that was approved by their insurance, but that one of the doctors was not and they ended up owing thousands for the doctor while the hospital was covered by insurance.
So far, everything seems to be covered by my health insurance plan.
The bill in the image above is just a statement.
Each provider is sending individual bills to me, with the amount due after my insurance.
I have to pay until my deductible is satisfied.
My health insurance is also sending me an EOB statement each time they process a claim so that I will know what they paid and what I am left owing.
It also shows me how much of my deductible has been met and how much is still outstanding.
If I did not have health insurance, then I suspect these bills would've given me lots of stress and worry.
Now, I only have to worry about meeting my deductible, which is still not a great scenario in terms of trying to pay down debt and having to deal with new debt.
But still, it could be a lot worse without insurance, and for that I am thankful.